See the Best Unique Nature Lodges in the Pocono Mountains
The Pocono Mountains in Pennsylvania form a beautiful natural landscape, which is perfect for an escape from the city. In this article, we take a look at the best Airbnb nature lodges and cabins in the Pocconos. From unique mountain retreats to luxury log cabins with hot tubs, you'll find the perfect vacation destination within these pages for your next trip!
Why Stay at a Unique Nature Lodge?
All the lodges are located within the Pocono Mountains. They are all unique in their own way, but one thing that they have in common is that they're close to amazing outdoor activities. For example, you can go hiking, fishing, biking, skiing, snowmobiling, and more! Have a look at some of these top-rated lodges below.
The Top 3 Must-Visit Unique Nature Lodges in the Pocono Mountains
Choosing the right lodge is the most important aspect of your weekend getaway. The Pocono Mountains' landscape is filled with a variety of natural wonders including some of America's oldest mountains, breathtaking waterfalls, and charming towns. The region also offers a wide range of accommodations to suit a range of tastes and budgets.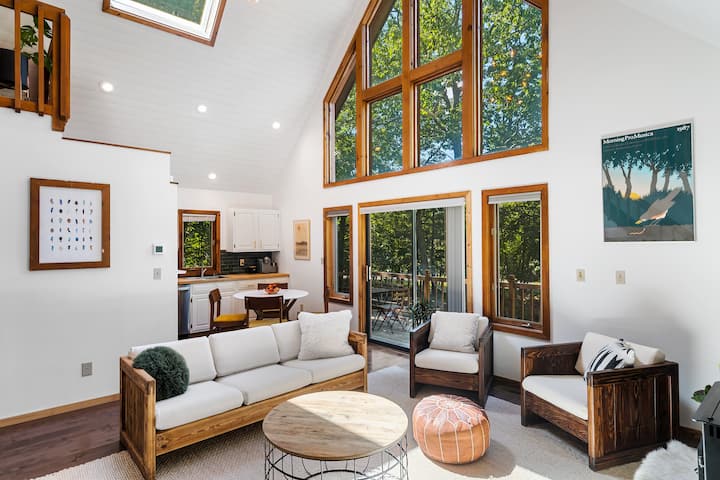 This beautiful lodge is situated in a massive gated community with acres of forested land, including 3 lakes. The property includes a pond, walking trails, and even two large swimming pool. You will enjoy all the peace and tranquility of this nature getaway with your family or friends. Nestled in the Pocono Mountains, this lodge is perfect for a getaway. Guests are welcome to relax in a comfortable basement chill spot or even get a kayak to take out on the lake.
Luxury chalet in a 3 bedroom with 6 beds and a hot tub!
You can't go wrong with this beautiful luxury chalet. You are steps from stunning nature including forests and lakes and inside is almost as good – cedar wood and heated bathroom floors! We highly recommend this rental and we know you and your family will love it!
Poconos gorgeous cabin near Lake Naomi available for short and long term rent!
Go back to a different era in a fully rehabed and gorgeous 1969 Classic A-Frame. It's perfectly situated near the gorgeous and popular Lake Naomi and so close to many desirable vacation and family getaway spots. This home is truly unique and special as it has acces to local trails as well as an indoor sauna, hot tub and even a wood-burning fireplace. You can also enjoy the free parking because the home is only a short drive to Kalahara and Camelback as well as countless more Pocnos getaway spots.
Amazing A-Frame Rental in the Poconos
Activities Nearby
There are many things to do in this area that will help you relax. The area has lots of hiking trails, fishing, and biking trails. There are also plenty of restaurants near the lodging for you to enjoy a meal at. Overall, we can't recommend the Poconos enough and we are looking forward to opening our first Hyatus home there soon….