Whether you're in town for a college visit to Yale University, to conduct business, or to explore New Haven's bustling food scene, finding the perfect place to stay to fit your needs could be a challenge. New Haven offers numerous and diverse housing options, so determining what to choose can be an overwhelming process. Fortunately, we've created this guide outlining some of our favorite places to stay in town. No matter what you're looking for, this list will have something for you!
Best Bed & Breakfast
Guests visiting this beautiful New England town will find that locals are warm, welcoming people eager to discuss the town's rich history and culture. For those looking to stay in a homey environment that's part of New Haven's historical landscape, Hyatus recommends the Austin Street Inn. This charming bed & breakfast is housed in a 200-year old building that was originally constructed by one of the city's founding families. Guests of Austin Street Inn get all of the benefits of living in a historic building with the addition of the modern comforts, like WiFi, we all love.
Best Traditional Hotels
The Blake Hotel is a chic and cozy boutique hotel conveniently located just a five-minute drive away from Yale University. This modern space offers guests numerous amenities, including access to the on-site gym, workspaces, and rooftop, and you won't have to travel far for dinner and drinks because the in-house restaurant and the rooftop bar offer up delicious treats to satisfy any palate.
Best Cottage
Throughout parts of the 19th century, New Haven was the home of a booming oyster industry. Primarily a cottage industry, workers often lived alongside the water in quaint cottages. For guests looking to reside in a charming home from this period, the Oysterman's House on Airbnb provides just this opportunity. Located in the Quinnipiac River Historic District and built in 1900, this home even offers guests the opportunity to use the host's boat in the river during the summertime. With stunning river views and a private backyard, guests of this cottage can escape the busyness of New Haven at this nature retreat.
Best Waterfront Escape
Although New Haven is known for being a lively city, it's also within close proximity to numerous beautiful, calming beaches. Just minutes from downtown New Haven, the Modern Beach House listed on Airbnb in East Haven, Connecticut, is a great option for visitors to Greater New Haven looking to stay on the water. This 4-bedroom, 4-bathroom home is stocked full of amenities and gifts to make your waterfront stay everything you could dream of and more. The outdoor spaces in particular are stunning, offering guests beautiful places to lounge and many beach games and pieces of equipment, like kayaks, to ensure everything they need to make this trip memorable is within reach.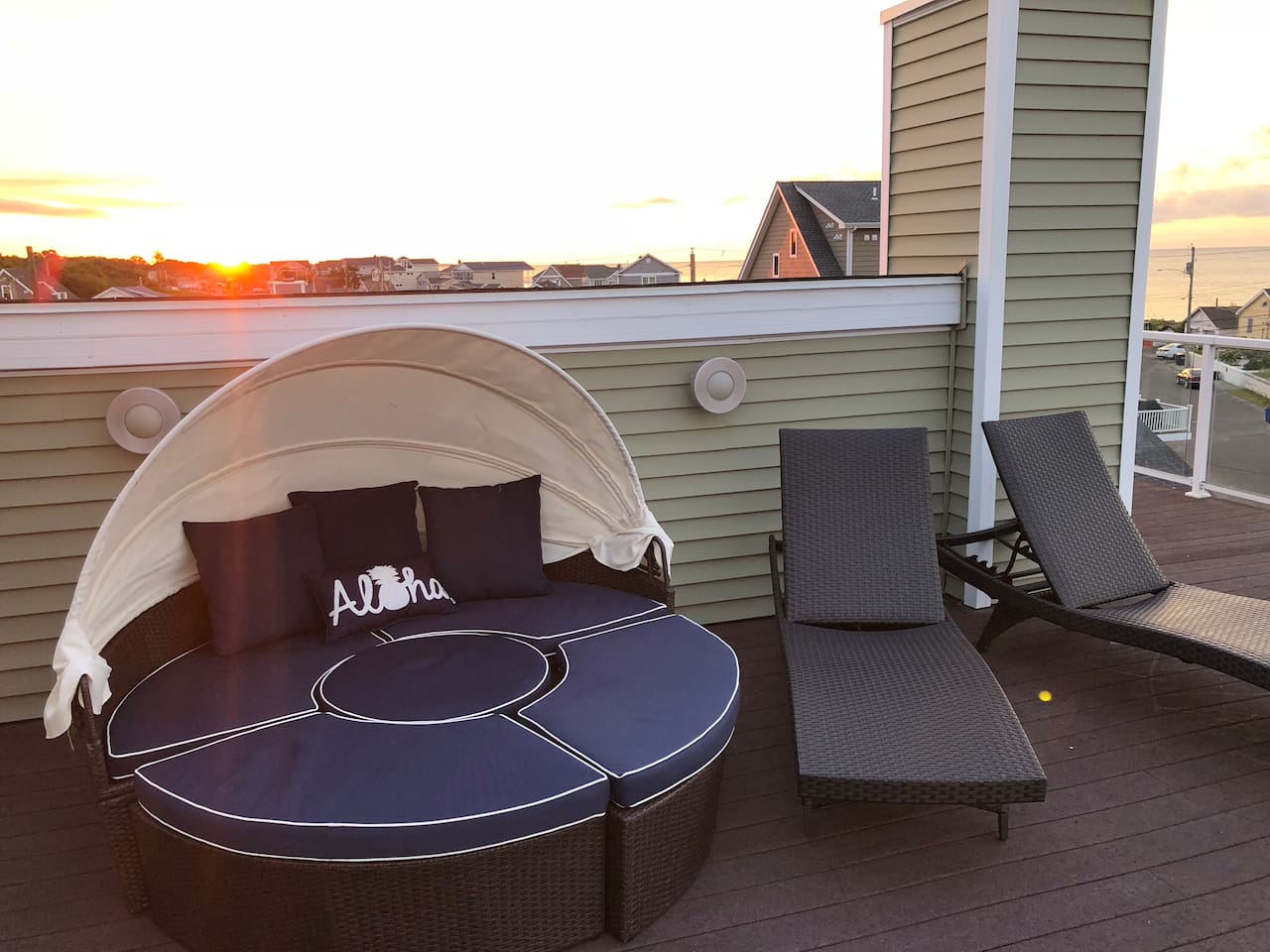 Best New Haven Furnished Apartment
Rounding out our list of our favorite places to stay in and around New Haven are Hyatus' luxury furnished apartments. Conveniently located just minutes from many attractions and equipped with unparalleled service and amenities, Hyatus is committed to providing our guests with everything they need throughout their stays. Every Hyatus New Haven furnished apartment is artfully designed and offers in-building access to a state-of-the-art gym, work rooms, and rooftop sun terrace. We even provide private parking, so guests can ditch their cars and walk to any number of nearby New Haven sights, including Yale New Haven Hospital, Yale's historic Old Campus, Union Station, and College Street Music Hall. Our apartments have everything you need to make sure your short, mid, or long-term stay feel like home.